We announced in September that we would accompany Martin Stengele on his way from La Gomera to Antigua. As supporters of Martin, we keep providing updates about Martin's current stage of his preparation. It's about three years to go until the Coastal Rowing – Ocean Rowing Challenge starts.
Martin makes excellent progress with his rowing preparations. Lake Constance has become a second home for him. His picture above reveals that he is prepared for long and lonely laps on the lake – boat mirrors and paddle hooks are always with him.
Martin managed to get the attention of several media outlets. A big goal was to find sponsors who would support his adventure financially. Especially if you think about the money he has already spent until today. Almost 100.000€ have already been spent on the preparation so far. Have a look at an article by the German Rowing Association (in German).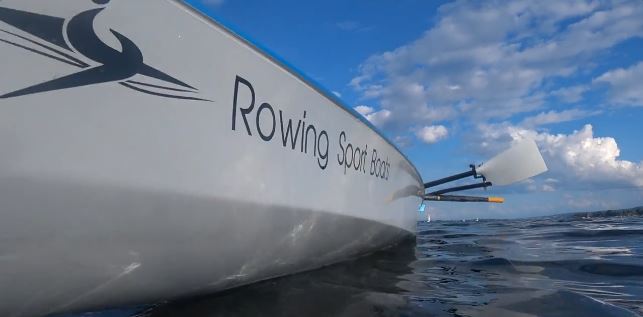 The Atlantic Challenge is considered one of the toughest rowing races in the world. It can be described as an extreme sport that only slightly overlaps with coastal rowing. Of course, a certain rowing technique is necessary but much more than technique, it's a challenge for your mental and physical strength. So far, only a few Germans have dared to take on this challenge. The most recent and famous ones are the four women from RowHHome, Meike, Catharina, Steffi and Timna, who were the first women's team to reach the finish line after 42 days and 5,000 kilometres in January 2020. Their film "Wellenbrecherinnen" accompanies this emotional adventure.
Now another German wants to face the challenge from La Gomera to Antigua – the 51-year-old sports and mental coach Martin Stengele!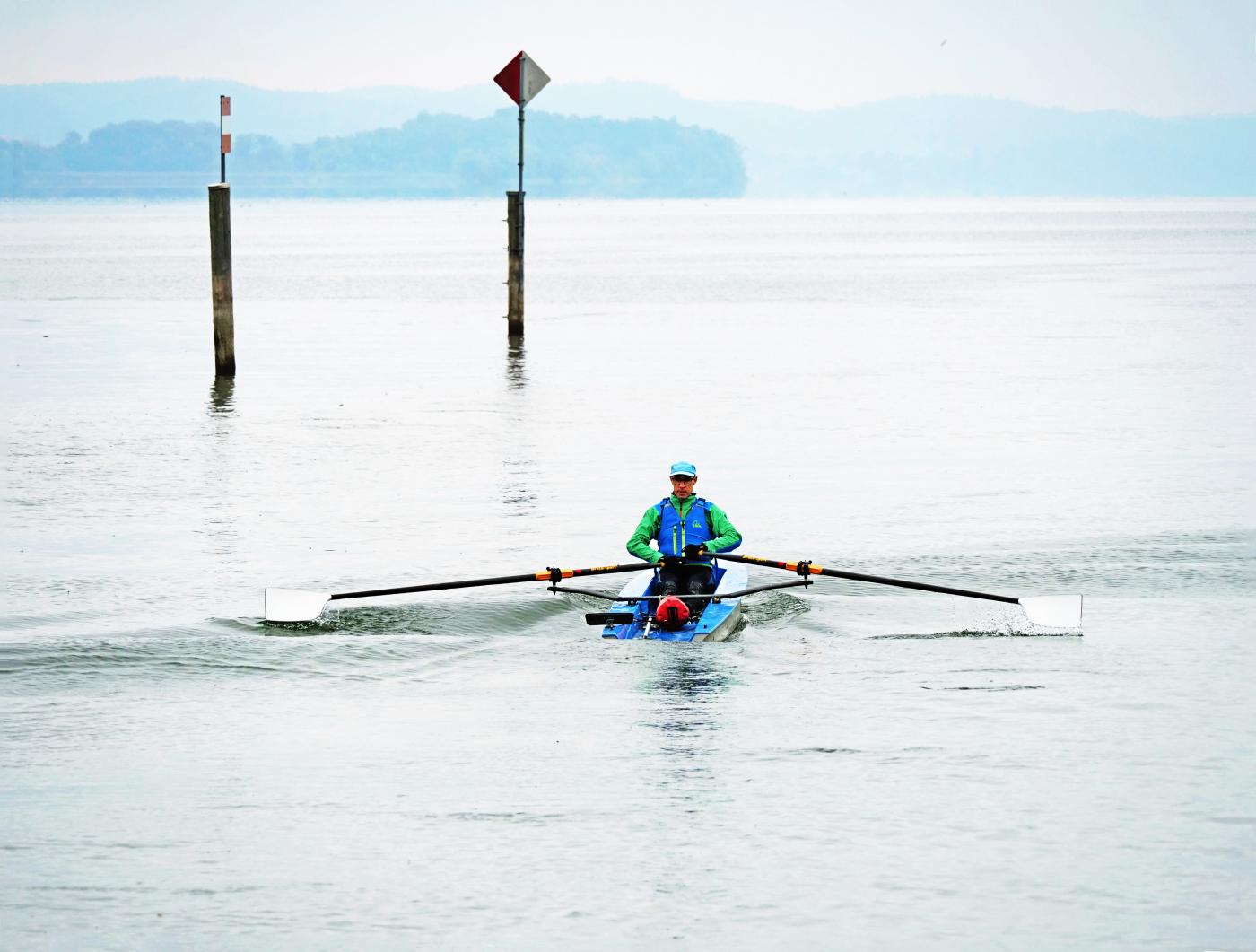 3 years of intense preparation for the Atlantic Challenge
There is no question that Martin has a strong spirit and willpower because his goal is extremely ambitious. "I watched the film Die Wellenbrecherinnen and thought I'd like to do that too," explains Martin in an initial interview. The most important step for this has been taken – last year, he joined the RV Konstanz and started rowing, preferably in the Coastal Boat that he bought. In December 2024, he will participate in the Atlantic Challenge as a solo rower. He estimates that it will take him something between 60 to 90 days. 
Martin still has to smile a little bit when he thinks about the decision-making. "My private environment and I naturally first questioned whether I was really sure what I was getting myself into. And then the thought occurred to me whether it might be a midlife crisis thing, but it's not." Martin is driven by a quote from John Steinbeck: "People don't go on adventures, adventures take care of people."
"Rowing for life" – Raising awareness for Cystic Fibrosis 
It is not possible to participate in the Atlantic Challenge without a "good cause" and a supported charity. This is another reason for Martin to participate. With his participation, he wants to support the work of Mukoviszidose e.V., a charity for cystic fibrosis and all those affected by this disease. 100% of his profit goes to the non-profit association. But taking part in the challenge is not just a matter of physical effort and time but also a question of financial resources. In total, Martin is approaching 6 digits in costs, which he is already trying to raise through initial collaborations. He is still at the very beginning and is dependent on numerous support. But not only do financial donations help at this point, but also rowing-specific know-how or other forms of support, such as in the field of social media, are in demand!
Anyone who finds the project exciting and would like to support Martin on his way can contact him directly by email: info@rudernfuersleben.de
We will continue to follow Martin's preparation. If you have any questions for us or ask us if we can support Martin together, send us an email.
Coastal Rowing – Ocean Rowing – "Atlantic's calling"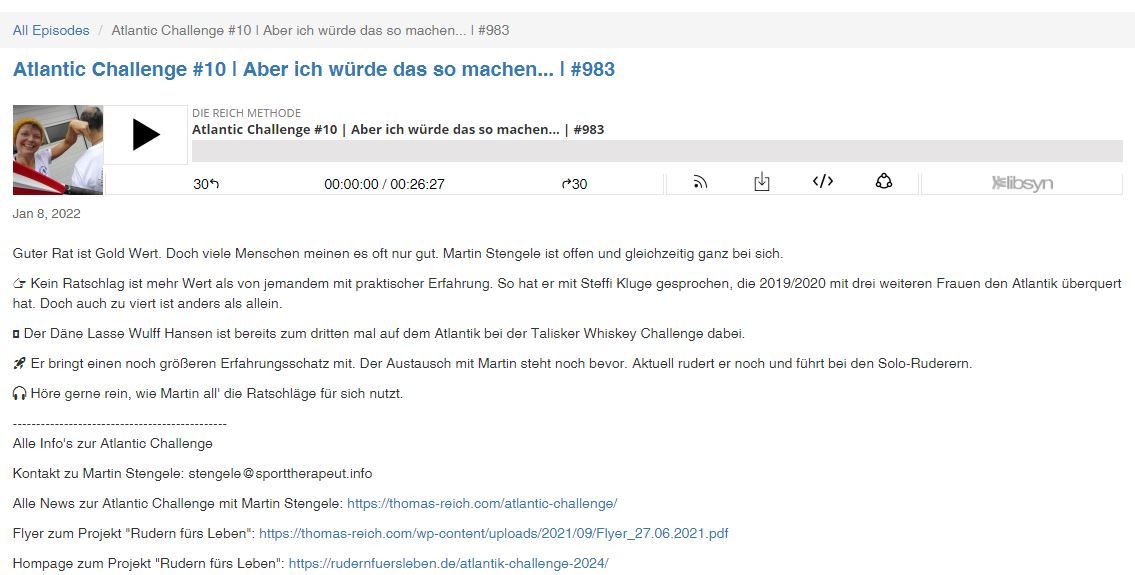 If you understand German, you can also look into Martin's podcast, which is becoming more and more interesting. You can find the last two episodes here.