Get your 15% Early Bird Discount until October 2024: Many rowers say: The Vogalonga is a must on the bucket list of every rower.  In touring boats and coastal boats. Really: Why don't you try the Vogalonga in a Coastal Boat. Vogalonga 2024- book your Coastal Boats now. Coastal singles, doubles and Quads.  Book here.  Save the Date: 19.05.2024
Rowing from Cannaregio to Canale Grande into the city was the most exciting rowing I've had in my life
You might have heard about the classic race: The Vogalonga in Venice, Italy. The new edition will take place on May 28th 2023. And as always: More than 7000 water sports athletes will join. Because we do not know what the weather is like, or what the sea is like, we from Rowing in Europe are offering Coastal Boat rentals for this event. We know from experience that many recreational rowers feel more comfortable in these boats, especially between the Burano / Murano stretch.
The Vogalonga regatta is a non-competitive recreational sporting event for amateur athletes. Anyone capable of managing a watersports device can participate. You'll find dragon boats, kayaks, SUP's and, of course, rowers. Pre register for a boat here.
Vogalonga – a form of protest.
It all started in 1974 when a group of friends got sick of motor-accelerated boats in the lagoon and the decline of muscle-driven boats in the city. They were fearful of the environmental impacts the wake and waves from the motorboats would have and concerned about the erosion of houses and antique buildings in the city. The group came up with the idea of a non-competitive rowing event as a form of protest against the deterioration of the city.
They worked hard to find alliances and formed coalitions with all those in favour of protecting the historic city and reinstating Venetian (boating) traditions. They found rowers, dragon boaters, GIG Rowers, canoes and kayaks. Even gondola rowers joined the project.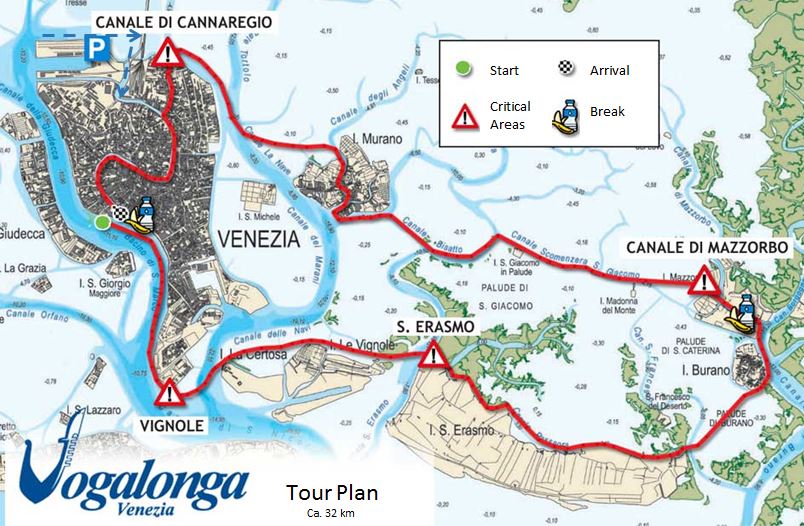 Vogalonga – Help from the media
This simple, spontaneous act of indignation led to the Vogalonga venture; the event was proclaimed and strongly promoted by the local city committee members. And fortunately – some of the organizers had influential jobs and stakes in one of the most known Italian sports magazines. The idea was quickly supported by other media – and the rest is history. In 1975 the first Vogalonga started.
Rowing at the Vogalonga – The Regatta
On Voga-Sunday, between 8.00 am and 9.00 am, boats are scheduled to meet up in St. Mark's Basin (Bacino S.Marco) opposite the Ducal Palace on the day of 'La Sensa' (Ascension Day / Pentecoste). The Regatta starts at 9.00 am from San Macro. The course is a 33 km stretch. It includes canals and some of the most pleasantly charming places in the lagoon. The participants row along different Islands until they return to the Canareggio Canal into the city. Noemi, from Rowing in Europe, a rowing tour operator, stated: "Rowing from Cannaregio to Canale Grande into the city was the most exciting rowing I've had in my life". The spectators and the audience along the canals are applauding, cheering and sometimes even throwing roses towards the rowers.
Vogalonga – Rowing Family
There is no hurry at Vogalonga. No line. Some teams return after 2.5 hrs. Others take their time, and some even stop to open up a bottle of Champagne and take it easy while enjoying their day. Noemi: " Curious things happen: our crew was invited by Italians who had their house next to the lagoon. They served us a small typical Italian Lunch."
Photo Credit: Rowing in Europe
Vogalonga today.
Vogalonga has approached its 45 anniversary. The course has not changed, but the participants have. In 2018, people referenced about  8000 rowers in 2700 boats. This mass of rowers and the number of boats is not easy to manage. Not all crews follow the official route, and many try to investigate alternate routes. Sometimes this leads to serious boat damage. During the years, the Italian Coast Guard has been supportive of the crews, and their divers help stranded boats. The regatta is not dangerous for those who remain on the official course and row carefully. Avoid the harbour section when you return to your landing dock.
Vogalonga – Boat and Seat rental for a weekend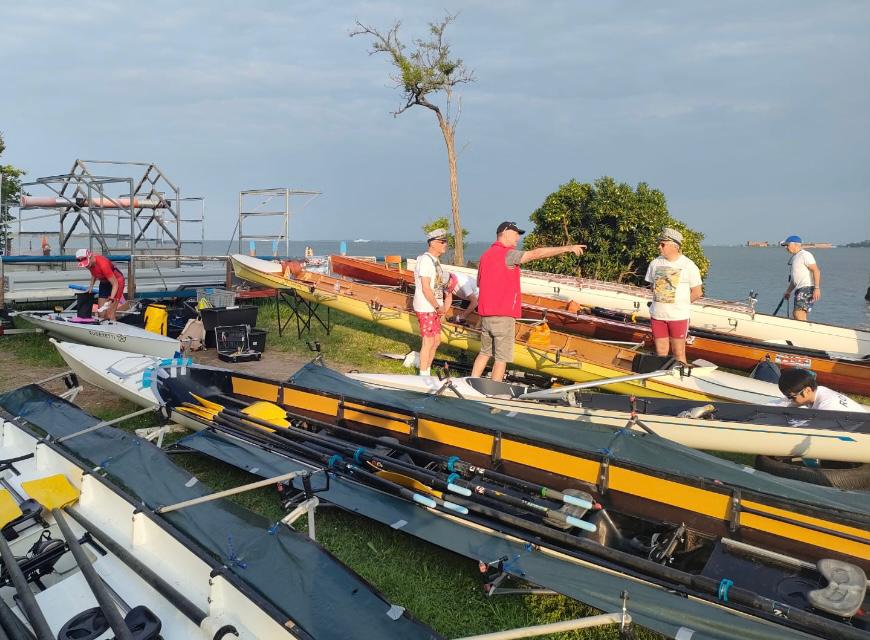 Vogalonga 2024- book your Coastal Boats now. Venice is easy to reach from many airports in Europe. A taxi takes you downtown within 20 Minutes. For those who do not bring their boats, there are several organisations leasing rowing boats, canoes, and kayaks. Rowing in Europe, one of the most experienced Rowing Tour Agencies, organizes boat and seat rentals for individuals or crews. This time also in Coastal Boats. More than 300 guests have used their professional service. You can contact us for further information and rental options.
Take care of hotel arrangements as early as possible. Most rowers start booking their hotels in October. Hotel prices sink in May for a short period – if you plan to get a decent location – waiting too long is counterproductive.
Registration
You need to register your crew participation at vogalonga.it. Probably during April 2024. Usually, this website opens up in April and offers you online registration. You can register for a small fee (22€) and receive a tour package, T-Shirt, poster and a medal. Believe us: it's worth every cent.
Order your boat/seat with us:  Pre register for a boat here.