How to do Coastal Rowing in Switzerland? Well, take a rough and shaky lake, animate lots of clubs from all over Europe and get support from the local Rowing Association.  All managed by a great organizing event team.
Switzerland has proven it. Coastal Championships can take place even without great coasts or beaches. On 5.11.2022 the first Swiss Coastal Rowing Championships took place in Lausanne, Lake Geneva. Embedded in a race schedule, with many races of the open class, well over 2oo athletes found themselves at the regatta site. (Featured picture: Ravini/Buffi, Swiss Champs CU23MIX, Cannottieri Locarno)
Practice in Coastal Conditions.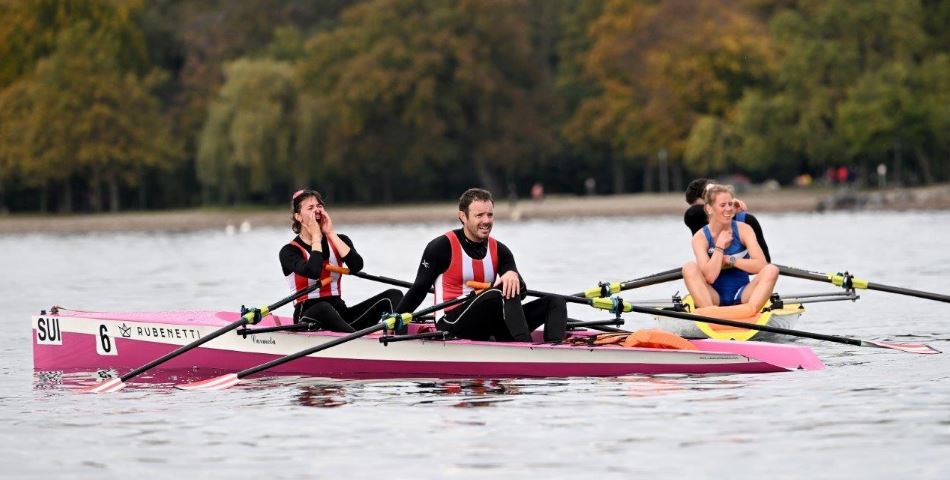 Lake Geneva is a beautiful lake once the weather is nice. The lake can also develop develish conditions and create scary moments for sailors and rowers.  The day before the regatta, the lake showed its "wild" side: SE wind and waves up to 80cm hight. Ideal to prepare for the regatta. On the regatta day itself the conditions were rather "peaceful", light breeze and waves up to 20cm. Also suitable for flat water rowers.
Impressive organization
The organization team around Fanny Mossiere did a good job. Early communication of the event, good interaction with domestic and foreign rowing clubs. Next to local Swiss clubs, many participants came from the Rhone Alpes region but also from the Mediterranean Sea (South of France / Spain).
Easy logistics, good food and warm ambiente between organizer and community. The arrangement with the boat suppliers was good. There were enough club boats and rental boats on site. All participants had a seat before the registration deadline. Boat suppliers were Rubenetti, RS Boots  (through Coastal-Boats.ch), Lite Boat and Ave from Portugal. We are looking forward meeting the crews again on Saturday, 14 October 2023.
Results
You can find the results of the SM here on the  Swissrowing webpage. Check out also the great pictures from Detlef Seyb, one of the most welknow photographers in the world of international rowing.
Read about coastal rowing in Switzerland: Regatta Failures in  Arbon Lake Constance Regatta (Language: DE)