Singapore Goes Coastal rowing. Another country develops ambitious goals. We reported about Switzerland's first Champs a few days ago.
In last nights TV show we noticed well the new plans of the Singapore National Rowing Association talking about their plans to reinforce Rowing in Singapore and reinforcing Coastal Rowing in particular.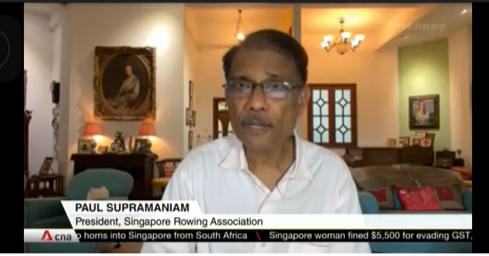 It becomes clear: Singapore goes coastal rowing. The president of the Singapore Rowing association, Paul Supramaniam reported in an interview, that his association will reinforce all rowing activities, in all ages including Para Rowing and Coastal Rowing. He has developed ambitious goals for an exciting and successful rowing future in Singapore.  This includes more training hubs and the extension of existing training courses to host international regattas.
Interesting enough: the TV news production explains the difference of Coastel Rowing and Olympic Rowing. (here the WR Beach Sprint presentation) It will be very exciting how the Singapore athlets will do in the future. They are very excited and looking forward to participating in the upcoming events. And maybe even fight for metals. Have a look at this TV production here