Kiel Coastal Regatta – Olympic Center. The  EKRC  (1st rowing club Kiel) organises the first Coastal Rowing Regatta Kiel. Organizers are also celebrating their 50th Olympic anniversary of the Kiel Schilksee Olympic Center on September 3rd and 4th, 2022. The coastal rowing community can expect a lot of impressive activities: Beginners and professional coastal rowers can prove their ability, skill, strength and endurance directly at the Schilksee Olympic Center. Date: Coastal Regatta Kiel  03.-04.09.2022
Program of the Coastal Rowing Regatta
On day one (03.09.2022)  the "förde challenge" will take place – a circuit with up to 6 boats and duels right near the beach.
The second day (September 4th, 2022) focuses on the sprint races. The "förde speed race" consists of sprint races – with start and finish on the beach.
Boats and, if necessary, coxs's are available.
Beach close to Olympic Center Kiel, Credit: Reiselurch.de
Side Program
Coastal Coaching: Beginners, pro's and interested parties can participate and train their skills.
On September 1st, 2022, beginners and those less experienced can get a taste of coastal rowing under instruction. (Flyer) 
On September 2nd, 2022, a workshop (GER/ENG) is aimed at the experienced and advanced rowers.  Module 2
Boat testing: In this context, different boats can also be tested.
In addition to the spectacular coastal races and the associated beach starts, there are also spectators, relatives and families who are enthusiastic about sports an exciting and eventful program.
More Fun?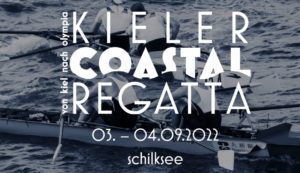 Triathlon: Immediately before the Coastal Regatta on September 4th, 2022, the "Schleswig-Holstein Triathlon" will take place at the Olympic Center in Schilksee
http://schleswig-holstein-triathlon.de
Activity day 04.09.2022: learn more about this here "Day of Sports" :  https://www.lsv-sh.de/der-landessportverband/veranstaltungen/tag-des-sports/
Further information and registrations at: https://www.ekrc.de/coastal/.  More coastal rowing events: here