Proper coastal gear is important throughout the year and not only when it's getting cold. So let's talk today about another Coastal Rowing Gadget: Waterproof Socks. Waterproof socks are a nice thing to have and they are nice to wear when the weather is hot. When people usually think of footwear for rowing, they think of shoes. However, socks are also an important part of footwear in rowing.
Unfortunately, often not a lot of thought goes into picking socks. And socks might even be more important than shoes because they're the layer that has direct contact with your skin, especially if you're not using Active tool shoes in your boat.
Let's take a look at socks in general. Socks are known since the 8th century BC and appeared first in Ancient Greece. They were typically made of matted animal hair. An invention of the 21st century are Waterproof Socks which keep your feet warm and dry thanks to a waterproof breathable membrane that is protected by 2 knitted sock layers.
What are waterproof socks exactly?
Waterproof Socks are usually made with 3 layers: a knitted exterior sock, a waterproof membrane, and a knitted interior sock. Because the outer and inner socks must be thick enough to protect the waterproof membrane from abrasion, you will find waterproof socks to be thicker than your average athletic socks.
Not only offer waterproof socks protection, but they also make you comfortable by keeping your feet dry. Aside from that, they also add some insulation, providing warmth to your feet, especially when your feet get wet in cold waters.
Functions of Waterproof Socks for Coastal Rowing – Protection from the elements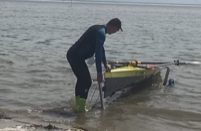 We tested the socks in a RS Yole 19 with a regular stretcher plate and Velcro strips and in a Rubenetti Race with Active Tools shoes. Indeed, waterproof socks are real game changers in protecting your feet. You can not only use them directly in your stretcher plate without shoes but also use them in your Active tool kit. Both options work fine. An obvious benefit of waterproof socks is that they protect your feet from getting wet.
When you wear a pair of waterproof socks, you can put your boat into the water with total assurance that your feet will not get wet. We tested our socks in saltwater and had no issues. Once the water covers your feet you will think: "Oh, they're not waterproof at all!" But that is just the feeling of the cold water around your feet. So, no worries! The socks keep your feet warm and dry even in a cold environment. The North Sea had a water temperature of 12 degrees Celsius. The outside temperature was around 14 degrees Celsius. Still, absolutely no problem. And the good thing, warm feet help to prevent a number of health conditions that result from having cold, wet feet. With our socks, even after 60 minutes of rowing and some "good" waves into the boat, our feet were dry and warm.
We also liked to use the socks in our beach shoes. Both shoes and socks, gave us a very comfortable feeling while walking along the beach. And the best part? Due to the layers, not even sand made it into the socks.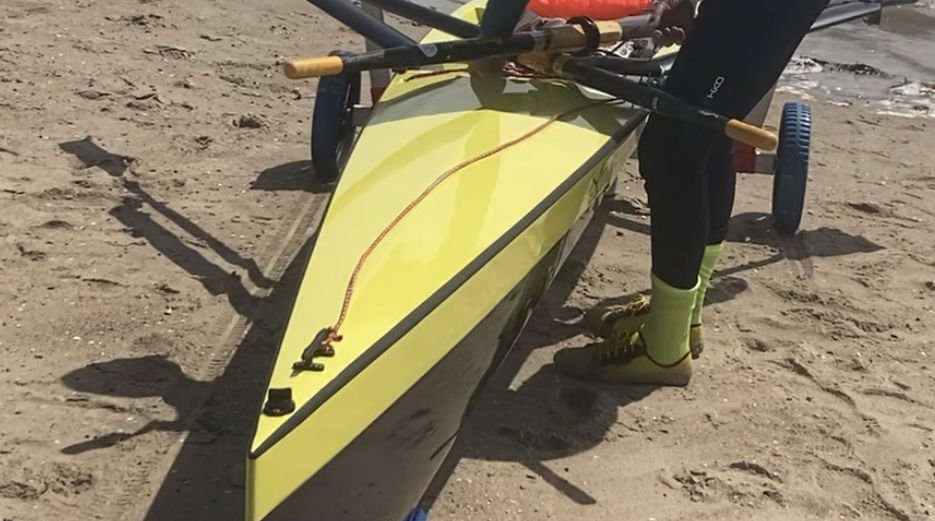 What about Blisters? And what is the perfect size?
Blisters can be an issue, especially when you're not used to the socks, or the socks don't fit properly. We were totally fine! Our socks were L/XL and fitted perfectly. There are several things you have to look for when it comes to sizes. If they're too tight, they could cut off proper blood circulation in your feet and if they're too lose you risk getting blisters. If they're too low, they might not protect you adequately from rubbing along the heel and tongue of your footwear. If they're too high, they might be too warm.
How do I get the salt water out of my waterproof socks?
All you need to wash your waterproof socks is to turn them inside out and soak them in warm soapy water, that's it! Waterproof socks are impervious to water, so you can't simply throw them in the washing machine and expect them to come out clean and ready to wear. When you wash them, don't use softener; use a program with not too many spins.
Coastal Rowing waterproof socks
We think waterproof socks are perfect for Coastal Rowing! Especially when you are rowing in colder environments. They keep your feet warm and dry and you can walk to your boat without getting wet and cold feet. If you row in warmer climates they might be a bit too warm, but that is something we haven't tried yet.