It was a beautiful day to start, but the sea conditions deteriorated requiring racing to be paused, and eventually abandoned for the day in Barletta at the 2023 World Rowing Beach Sprint Finals. R
ead here the press release from last night and what to expect on today's spare day event:
Two boat classes had already taken place at the time of suspension, and the medals were awarded for the PR3 coastal mixed double sculls and the U19 coastal men's double sculls.
2023 was the first time that a para boat class had been included in the programme at a World Rowing Beach Sprint Finals with the PR3 mixed double sculls being held as an inclusion event. With four entries, all boats got to race in a final, and the Final A was an incredibly close race with less than a second between the two runners to the buzzer. The gold went to Australia's Macintyre Russell and Phoebe Robinson who pipped Great Britain to the line.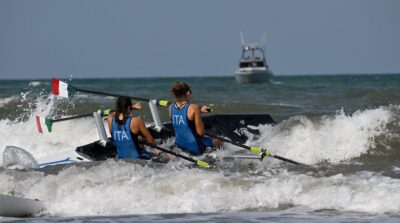 Spain had been gold medallists in the U19 men's double sculls in both 2021 and 2022 but it was not to be this year as Italy stole the world championship title on home waters. It was gold for Leonardo Bellomo and Pasquale Tamborrino as they beat France in the Final A.

Weather conditions disrupted World Rowing

Conditions started to become really challenging in the afternoon and caused all sorts of drama. Last year's bronze medallists in the U19 Women's Double Sculls, USA, were excluded after their quarterfinal for not being in control of their boat. Shortly later, a capsize for France meant that Italy progressed to the Final A. However, as conditions continued to deteriorate, racing was eventually halted.
After discussions with Team Managers and test boats being set out, it was initially decided that the U19 boat classes would be postponed and that the coastal men's solo would go ahead. However, upon further consideration, a decision was made to abandon racing for the day.
Following an assessment of the current weather and wave conditions, which result in potentially unsafe conditions, it was decided that the remainder of racing would be delayed to the spare day, tomorrow,

02 October 2023

.
The updated schedule is now here.