After deteriorating conditions yesterday caused racing to be abandoned, the action got underway again early this morning on Barletta Beach as the final four boat classes were concluded at the 2023 World Rowing Beach Sprint Finals in Italy.
The final medal table had ten nations picking up medals across the nine boat classes with the host nation, Italy, claiming three of them. All four boat classes raced today were won by different nations as Great Britain, Spain and the Netherlands also claimed World titles.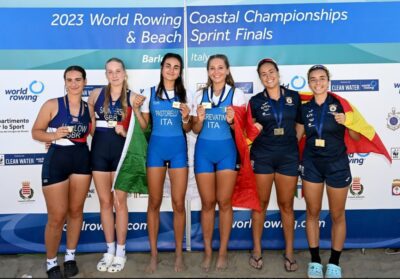 Racing started with the U19 women's double sculls. The first rounds had been raced yesterday and it was just the finals left to race. The extra speed that V
ittoria Pastorelli and Maria Vittoria Crevatin had on the return leg was enough to secure gold for Italy, Great Britain taking the silver.
Racing came thick and fast in the condensed programme and the U19 mixed double sculls were up next where, despite a capsize in the final stages of the row to the beach, 
Jonathan Martini's run to the buzzer was enough to secure gold for him and his British teammate, Isabel Lancaster.
It was just the solos left to race, and the men were up first. The final saw two former World Rowing Beach Sprint champions go head-to-head as 2019 winner Adrian Miarmon Quiroga of Spain faced local hero Giovanni Ficarra, who has won in 2021. It was the Spaniard, who had a bit more experience and was able to judge the waves a little better, that came on top and claimed his second World title.
The women's solo saw an exact repeat of the Final from the European Rowing Beach Sprint Championships just a few weeks ago where France's Elodie Ravera-Scaramozzino beat Dutch athlete Janneke Van Der Meulen of the Netherlands by 0.18 seconds. However, the result was reversed on this occasion and it was revenge for the Dutch athlete as she became World Champion.
As the curtain came down on a dramatic set of World Rowing Beach Sprint Finals, focus moved to the endurance format which Barletta will host next weekend, 6-8 October 2023.