Powered by Rowing in Europe. The Austrian Rowing Federation, ÖRV and the rowing club Wiking, Bregenz are organizing their first Coastal 2x Regatta in Bregenz. Powered by Rowing in Europe and www.Coastal-Boats.eu. It is the first Coastal Rowing Regatta in Austria and the first Coastal Regatta at Lake Constance. We are proud to be a supporting Member of the Austrian Coastal Rowing Community.
Masters Novum: Depending on age, masters will a credit according their  category.
Here are the key dates:
Date: Saturday, the 21st of October 2023 in Bregenz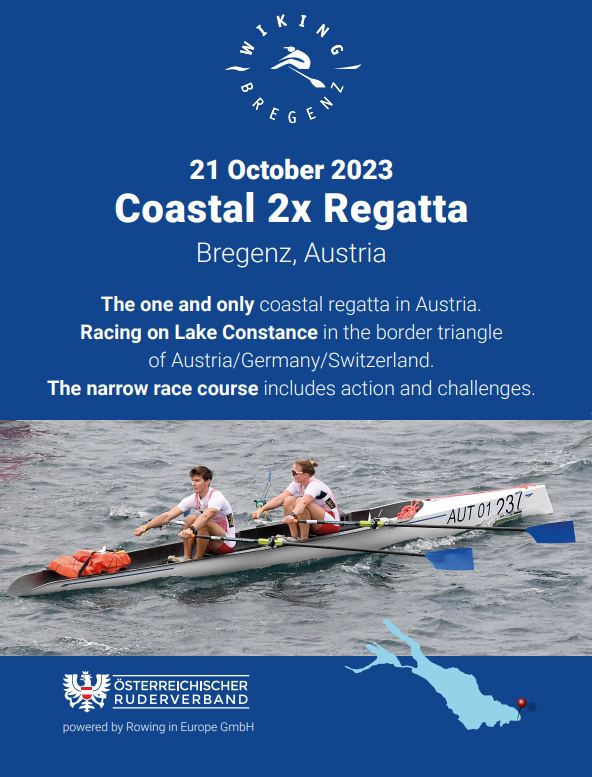 Coastal 2x Regatta in Bregenz: the course is demanding:
Race course – 2 laps – 3.8 km
Preliminary heats: Start from 9:30 a.m.
Final: Start from 13:30
Start and finish line on the water.
Entry fee & boats:
Entry deadline: Wednesday, October 11, 2023. Cancellations are possible until 1 hr before the start.
Entry fee: EUR 50,- per team.
Boat classes: CR 2x according to FISA standard
Categories: JM, JW, W, M, MW, MM – mixed boats (50:50 except Masters) in all age classes – the Masters races will be calculated according to the "Welser system", Juniors according to § 18 RWB
Rental boats: There is a limited number of C2x boats available through Volker Fritz, coastal-boats.eu
Rental fee: EUR 75,- per boat; sculls (2 sets) EUR 35,-
Bank account: RV Wiking Bregenz, Sparkasse Bregenz IBAN: AT90 2060 1001 0400 9485
Further information:
Registration
Download: Ausschreibung 1. Vorarlberger Coastal Regatta 2023.pdf (german)
Download, Course: Ausschreibung 1. Vorarlberger Coastal Regatta 2023 – Kurs.pdf
Quelle: http://www.rudern.at/downloads/ausschreibungen-2023
Accomodation: