USRowing has released and updated its schedule for regattas and other events. This includes the Coastal Rowing events of the 2022 Team USA Schedule.
The organisation also mentioned the upcoming 2022 Coastal races / Beach Sprint Trials in Sarasota, FL, and the 2022 WORLD ROWING COASTAL CHAMPIONSHIPS and Beach Sprints in Saundersfoot, UK.
Have a look at the information USRowing published about the 2022 Beach Sprint Finals Trials:
What? 2022 Beach Sprint Finals Trials  (CM1x, CW1x, CMix2x, CMix4x, CJM1x, CJW1x, CJM2x, CJW2x, CJMix2x)
When? August 5-6, 2022
Where? South Lido Key Park in Sarasota, FL.
Entries are due by Friday, July 22, 2022, at 11:59 pm PST. To put an entry in, please visit Regatta Central.
Requirements for participation:
(Pre-competition) Health screening by USRowing
Acknowledgement of the Anti-Doping-Policy of USRowing
Athletes will not be permitted to launch if they are not in compliance with these requirements. To renew or create a Membership, go to www.usrowing.org and click on "Join" or contact member services at 1-800-314-4ROW. To sign your waiver and Anti-Doping Acknowledgement, go here.
Membership staff will not be on-site, so it is important to ensure compliance in advance of the event.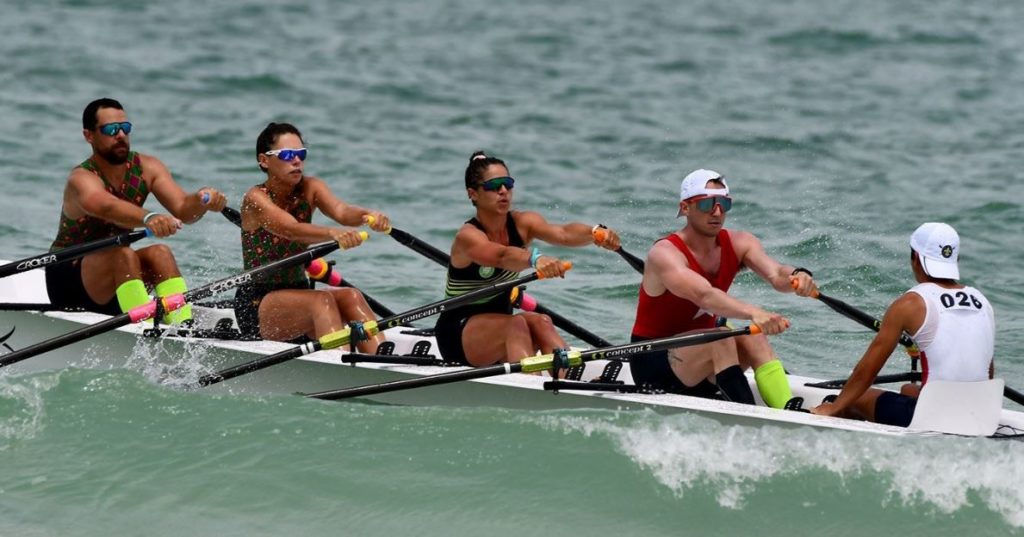 Schedule (Tentative)
Thursday, August 4
AM Training Session*
PM Training Session*
*Sign-Up for practice will be made available following the close of entries.
Friday, August 5
AM Time Trials All Events
PM Finals CJM1x, CJW1x, CJM2x, CJW2x, CJMix2x
Saturday, August 6
Finals CM1x, CW1x, CMix2x, CMix4x
Location:
Racing will be conducted at South Lido Beach Park, Sarasota, Fla. Trials participants will not have access to locker rooms or showers on-site. Restrooms will be available.
Racing Format:
Please see the 2022 Beach Sprint Selection Procedures.
Please note that we will be following the FISA Beach Sprint Progression.
We will be using the FISA progression.
Adverse Weather Policy:
Click to view the Adverse Weather Policy
Equipment:
USRowing has secured pool boats which will all be rigged with a spread of 158cm, 5 degree pitch with .5-1 degree lateral pitch and at the maximum height.
All entrants are required to bring their own oars for use.
Boat Handlers
All entrants are required to arrange for their own boat handlers. Boat handlers are required to take SafeSport training and have a current USRowing Membership to be eligible to participate in the event. If a boat handler is traveling with the team to the World Rowing Beach Sprint Finals there will be additional requirements.
Trials Winners Information:
Please note that your passport must be valid through May 17, 2023. If your passport expires before that date, or if you do not have a passport, please be sure to start the renewal/application process well in advance of trials. All athletes winning berths at the selection trials must submit on-site their intent to compete. All athletes and coaches on the 2022 Team will be required to complete SafeSport training and have a Background Check, information on how to complete these will be sent out following the event.
Parking:
All vehicles must park in the designated areas on the island.
Anti-Doping:
All competitors must have completed the USRowing Anti-Doping Acknowledgement. This acknowledgment, and your USRowing liability waiver, can be signed here.
To learn more about Anti-Doping Information, please go here.
For questions contact Will Daly at will.daly@usrowing.org.
https://usrowing.org/sports/team-usa/schedule/2022