Enjoy the Douro River –  Rowing in Europe and Coastal-boats.eu are organizing 2 annual tours on the Duoro river in Portugal. We are rowing the Douro river with coastal boats.
Row and sociallise – along the banks of one of the most beautiful rivers in Europe. We offer you a wonderful rowing possibility: Rowing, Dining and winetasting. Do we have your attention?
Why coastal boats? Coastal boats are easy to navigate in coastal areas and even better in flatwater regions. The boats provide enought space for your personal belongings and and protect well against the wake of sightseeing and cruise ships. Plus. The Douro ends up in the Atlantic Sea – no need to change boats in case you extent your rowing trip.
Rowing the Douro River: Risk assessment: Low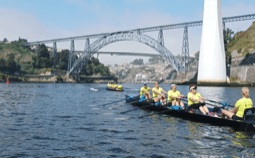 From our experiance in coastal rowing we know how to do an evaluation of risks and dangers. We do the same for flatwater tours. So far, tour has been performed > 15 times without severe accident. In case rowers apply to the safety boat crew and the rowing instructions the personal risk is very low. Safety boat will instruct rowers in the locks. So far, no accidents. Traffic on the Douro river in this part is low. 3-4 passenger / sightseeing boats per day with some wake. Some Douro stretches might show stronger down or headwinds.
What is the tour about?
We offer 4.5 to 6 day rowing tours. This tour will provide you the opportunity to row about 120 -150kms of its course. It corresponds to centenary Port Wine pathway from Vineyards till cellars and will include as main points of interest:
Alto Douro Wine Region (UNESCO World Heritage Center), heart of Douro River Valley;
Three of the five dams in Douro river;
Historical bridges at Porto City;
Porto Wine cellars
This type of event is an excellent opportunity to gather the nobility of rowing and the enjoying of beautiful sceneries Douro Valley provides, creating an enchanting experience. We designed this tour with a lot of care for coastal rowers and flatwater rowers. Our hots speak, English, French, German, Italian and Portugues.
The River
The river and the Douro Vinhateiro (wine growing-area) of the Douro Valley in Portugal has been designated by UNESCO as a World Heritage Site. Traditionally, the wine was taken downriver in flat-bottom boats called rabelos, to be stored in barrels in cellars just across the river from Porto. Dams with locks (we will meet 3 of them) were built along the river, allowing river traffic.
The area of the Douro has a microclimate allowing the cultivation of olives, almonds, and especially wine grapes. The region where we row, around Pinhão is considered to be the centre of Port wine. Believe us: There are also fantastic red and white wines to taste. Join us: Rowing vacation in Portugal
The trip: 2023, May 7th – 13th
Our trip starts in Porto, the second largest city in Portugal, which can be easily reached by air (Easyjet, Ryan Air, TAP, Delta, AUS) from almost all European Airports and selected Airports in the USA/CAN, GER/SUI/UK/FR and AUS/NZ. After our train transfer to the starting point, we will row 4,5 days – alternatively 6 days with daily stretches of 22-30 km and arrive in Porto after a total of 120 (160) km. A safety boat will join us, esp.when entering the locks. Also interesting: Caminho del Douro, a walking path through the valley.
Dates and Prices:
Check with us. All depends on the crew size and the amount of rowers
Register here:
Application-Forms-16