Rowing in Europe has recently talked to Isa Scheunpflug, a very well know coastal rower in the Coastal Rowing Community.  Isa has answered some of Volkers questions with very much inside knowledge. The information she gives about reboarding my Coastal Solo reads like a risk management manual and focuses on the risk aspects of rowing in difficult conditions. Read what Isa says about safety.
Volker:  Hi Isa, you are Rowing in Hong Kong, the place where the world coastal championships 2019 took Place. What makes that place a special?
Isa: Hong Kong is surrounded by water, the South China Sea. The subtropical climate allows all year rowing, with on average 1700 hours of sunshine. Home to both, fine and coastal rowing, this gives a great base for the sport. For coastal rowing in particular, the nature, city, surroundings are just spectacular. It has something for everyone in the sport. From serious racing to doing day trips to islands. Landing on a beach and sipping a cold drink. Row, beach, and hike. If you are lucky, you can meet dolphins and see wildlife. Hong Kong is very green, home to large country parks, and white beaches. Rowing in the middle of this world city cannot be topped. The skyline of Hong Kong's skyscrapers is world famous. You can struggle with waves & wind in the harbour and sit at your breakfast table 15min later. It's breathtaking, rowing in such an environment. For the sports rowers, racers, athletes amongst us – the waters around Hong Kong have endless challenges. From sheltered areas to very exposed waters with access to the unfiltered ocean. These different conditions are coexisting in proximity. All can be packed into one outing without issues. It's just a dream environment for our sport. A day out in the waves feels like a blessing and is a true holiday to all senses.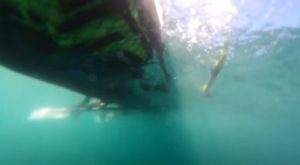 Volker: What kind of preparation is needed, what do you do before you go out in a solo in heavy conditions?
Isa: Safety first. I continuously watch the weather conditions, wind and wave forecast. Check the tide calendars, announcements of the marine department, anticipate the ferry, ship and boat traffic. I want to have a good idea of what's waiting before I go out. We have a lot of weather in Hong Kong. Typhoons, monsoons, thunderstorms, searing heat, high humidity and amazing rain storms are all on the menu. You don't want to be surprised. Sun protection and hydration strategies are of utmost importance. I could write a blog about each item separately. Also to discuss what happens when these basics go wrong. Heat stroke, burning skin, cramping muscles and being still 5 km out from home in the open ocean is a recipe for a potential disaster. Regardless of whether
I'm going alone, with other boats, or with a RIB, these are the staples I always have on board: life jacket, waterproof phone, enough water/electrolytes plus extra spare in a separate bottle, something small to eat – could be real food, gels, or baby food. Except the life jacket, all goes into a dry bag; well secured and easy to access. Then sport gadgets and nice to haves: stroke coach, sports watch, smart phone, action camera. All secured with strings on board. What I'm wearing: everything neon. Orange, pink, yellow, green. As long it enhances visibility. We have large container ships around, working boats, power ferries, motor yachts, sailing boats, kite surfers, paddlers, and fellow open water swimmers. This here is a high traffic area. I want to be seen in my nutshell. We have developed a high viz onesie, that is my staple go-to.
Plus thin gloves. Gloves help me to ease the grip and minimise the risk of cramping forearms. It's not about blisters. It's about being able to relax my hands. If it is hot, I hose myself down top to toe with cold water to avoid early overheating. You don't have the conditions under control, but you control your equipment.
Volker:  Let me ask you something else about reboarding my Coastal Solo. Most of the coastal singles sold to us have bow rigging now. In case your single is capsizing, does the reentry strategy depend on the bow and stern rigger?
Isa:
In my experience, yes, there is a difference. My friend Ben Booth has written the ultimate guide to re-entering a stern-rigger coastal. You find his manual here:
https://nextboatworks.com/rowers-journal/2020/2/8/re-boarding
. I can only echo his advice – train your capsize and start with the 'reverse capsize', aka how to get out of the boat. This exercise tells you a lot about the tipping point of the shell.
The currently so popular bow rigger requires an adjustment to the re-entering technique. It's near impossible to enter the boat from the inside of the rigger, and pressing the handles onto the seat at the front stop. It's just not enough space there. You need to let the oars go to have enough space to hop onto deck. That's not a big deal when the conditions are easy to medium – but I assume then you wouldn't have capsized in the first place.
So, what to do if you capsize in a bow rigged coastal? Adjust the Ben Booth manual to the following: park the seat at backstop, take care only about the inner handle that is on your entry side, and hop up. For my boat, I know that my hips need to land on the slide that is closer to me. That's the sweet spot of my boat. Then I can climb in without difficulty. In addition, for seriously difficult situations, I have made some 'handcuffs' for both oars – it's a string with two velcros on. Like that I have both oars under control which helps to restore equilibrium faster. From flipping to back into the boat and ready to row takes me below 30 sec now. I film and watch my re-entry trainings to learn and improve.
Volker:  When the rower tries to re-enter what are the main steps, entry phases to get into the boat?
Isa:  Reminder: safety first.
1.If conditions are disastrous or your confidence hits zero – put your life jacket on. This gives buoyancy, relaxes the mind, and buys you time.
2. Check out where the wind, waves, current is coming from. Never ever work against nature. Work with nature. Go to the side where nature is coming from. Place the boat parallel to the waves.
3. Upright your boat – step on the rigger, grab the gunwale and flip the boat.
4. Prep your boat – sort the oars, grab the inner handles, put on 'oar handcuffs', if you have some. Place the seat either at front or back stop, depending on the rigger type.
5. Jump up – with inner handles sorted, place your upper body on the deck, but have the legs still in the water to be able to counterbalance any further push from Mother Nature. Don't fall out on the other side.
6. Get seated – roll your hips between the slides and get on your bottom. Don't let the oars go.
7. Get the legs in – that's the last step. With your centre of gravity in the boat and oars under control, you are good to go. If conditions are rough, your boat will be full of water now. Start rowing immediately to get it out. 8. Repeat and train for time. The faster you are, the less scary the idea of a flip is.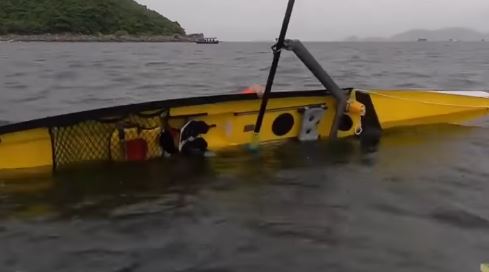 Reboarding my coastal solo – wrong time to be a hero
Volker:  Is there a point where are you would suggest stopping the reentry process and wait for help?
Isa: Flipping a boat is energy consuming. For many reasons. You are shock-surprised, the water is cold, maybe you were breathing in some saltwater, you have done already mileage. Don't underestimate your exhaustion. I wouldn't go for a standard formula. It depends on the risk factors of the situation you are in, what really happened; how much time it will take for help to arrive, and the energy you have left. In doubt, take it easy.
Wrong time to be the hero. If you are out of your comfort zone, then that's your truth. Act accordingly. Don't forget that your boat is the biggest buoyancy life jacket of all. It's near unsinkable and pretty visible. Analyse afterwards what happened and what to improve. It's just a matter of training.
For the absolute worst case scenario I have a waterproof phone with me. With saved numbers of the Marine Department Rescue. As long as the hull is intact, the boat will float. I can climb on the hull with the life jacket on, and can call help. Fortunately, this scenario never materialized. Touch wood, fingers crossed.
Volker: You are right. There is no standard formula saying, you have 2 attempts or try 5 times and then call emergency. We at Rowperfect and Rowing in Europe know from our coaching lessens with adults and mainly Masters Rowers, that 3 attempts to climb a boat consumes a high amount of energy. Our coaching experience: If you could not re board after 3 attempts your chances of re boarding are slim. Do not loose further energy. It is better to stay at the boat and wait for help.
Thank you Isa very much for your insights. As you said. Let's touch wood and keep our fingers cross that we will never get in a serious and dangerous situation