Today we would like to introduce our CONTACT beach shoes for coastal rowing and answer the question of what are good beach shoes for coastal rowing. The CONTACT neoprene booties were built for beach sprinters and slalom rowers who prefer to row with socks or barefoot but look for protection in critical parts. Our beach shoes are used by stand-up-paddlers, boarders, kite surfers, and even beach volleyball players. The minimalistic design serves many different sports.
The outsole is made from a single layer of only 1.2 mm rubber with a highly abrasion-resistant finish. It runs up to protect the critical outside heel area – one of the key contact points between you and the foot stretcher in the coastal boat or the paddler and the kayak. We intentionally avoided multiple layers of rubber to avoid overlays that can hurt your feet in the stretcher.
Beach shoes for coastal rowing
The shoe itself is made of 2.5 mm e.prene providing the perfect balance of insulation without affecting contact between the surface and your foot. The Donut entry is seamless along the edge keeping water from entering the boot and preventing it from slipping off. The boot is lifted just above the ankle. We thought of this to be the perfect height to keep the joint nice and warm but make it easy to slide in and out of the bootie.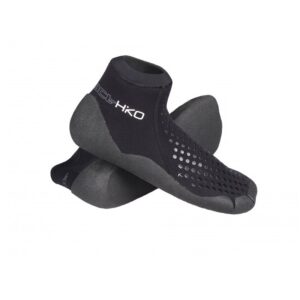 Coastal Rowers and lots of happy kayakers have used this successful design. With minor tweaks, the CONTACT booties have been putting smiles on faces for over a decade, and we are happy to announce the booties are in stock and available to ship as soon as you put the order in. Beach shoes for coastal rowing.