We are currently reducing our stock level. Benefit form our boat sales and enjoy monthly coastal boat deals. Have a monthly check on our website and find your used coastal boat of the month at discounted rates.
Read about our special January offer: Yole Y25  made by RS Boats, Made in France. Save 800 Euros – now.
Our January offer: Coastal boat of the month
Boat Profile and User Group (link)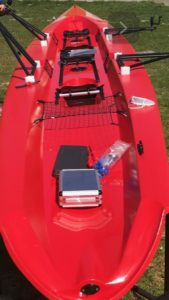 The classic coastal boat
always a good option, allrounder
recreational boat, racing boat, masters rowers"
Stable and fast
Boat has been rowed approx. 50x,
probably best selling Co2x since 1994
Color: red, minor scratches, small transport traces
Year of construction 2021
Aluminum folding rigger, footstretcher
side / stern net, C2/Martinoli oarlocks
boat is located in the lake Contance Region
Price:  Pick up price: 5800,–  ( New: ca. 6600 Euro, incl  transport & VAT)
delivery options €250.00  –  €350.00  (NED/GER/FRA/SUI/AUT/DEN)
Want to reserve? Check here: Want to ask more questions? Email us.